Here is everything you need to know o
ur Springboard+ Practical Entrepreneurship course
Free places for this course starting September 2019
Who is it for?
This programme is free of charge to any unemployed individual, who fits the eligibility criteria. More information on eligibility can be found here http://springboardcourses.ie/details/6295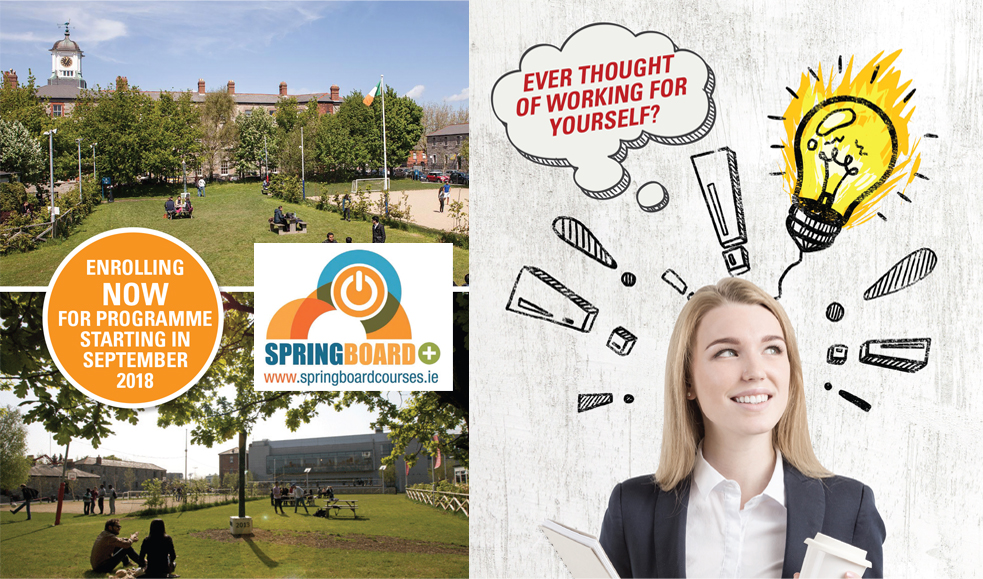 Why?
The programme aims to help people return to work through the creation of self employment opportunities. We aim to help participants build their confidence to start a business through the development of essential business skills and a support network to help keep them in business. In the words of our founder, Joanne Hession, "The Entrepreneurs Academy is delighted to be delivering new programmes under the Springboard+ initiative. Small businesses are the lifeblood of our economy and our vision is to have meaningful impact on the quantity and quality of entrepreneurship in Ireland."
When?
This 16 week programme starts in September 2018 and represents an opportunity for participants to develop practical entrepreneurial skills directly transferable to the context of self-employment. It also offers a support network to enable them to confidently enter the workforce as self-employed business owners. It is delivered in a creative, collaborative and engaging learning environment.
Where?
Our Springboard+ Practical Entrepreneurship initiative will be run from in Griffith College, South Circular Road, Dublin 8
What?
A 'ready for business checklist' document guides participants through the programme and into start up by ensuring they have accomplished key milestones in readiness for starting a business including:
• Writing their CV and setting up a LinkedIn profile
• Collecting testimonials and references
• Registering for Income Tax /tax clearance certs
• Running ICB checks for their credit rating
• Signing up to industry support agencies
• Following relevant Industry influencers on social media
• Setting up business Facebook/ website.
• Opening a business bank account
• Registering for Etender
• Signup for e-zines with LEO
• Practice interviews and business meetings
• Presentations on campus by INOU, BANKS, LEOs, Microfinance Ireland, DSP, Inner City Enterprise.
• Industry specific Mentor support
• For those not starting a business: additional job seeking plan development.
• Other key steps identified individually by learners to suit specific industry requirements e.g.: food safety training for food businesses.
Get in contact with us for more information:
Tel: +353 (0) 1 4197000
Email: springboard@entrepreneursacademy.ie