Wicklow - Trading Online Voucher Seminar
12mar9:30 am1:30 pmWicklow - Trading Online Voucher Seminar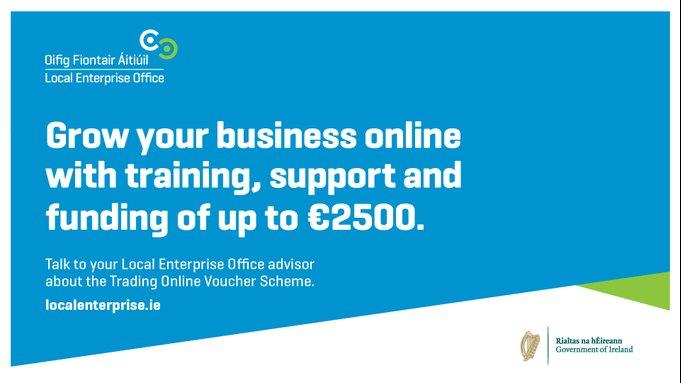 Event Details
The Seminar will cover:
Why does my business need to be Online?
Targeting Customers – YOU and your Audience
Search Engine Optimisation – Being visible online in online searches
Being found – setting up your website
Live Demo in WordPress – Building your business website
Social Media Marketing – how to develop a digital marketing strategy for your business
Information on the Online Trading Voucher
Top tips on how to fill in the application form
If you are interested in applying for a Trading Online Voucher, you must first attend this free half day information workshop prior to submission of an application. At the workshop, you will be provided with full details on the application process.
Pre-application Information Workshop
Eligibility Criteria for Trading Online Voucher
Vouchers will be available to a maximum of 2,500 Euros or 50% of eligible expenditure, whichever is the lesser
Voucher approval must be gained prior to incurring any expense
Own labour is not an eligible expense
Third party costs only will be considered
All third party/supplier invoices must contain proper business details (eg. Tax and business registration details)
You must not have received a Trading Online Voucher in the past
The vouchers are targeted at businesses with the following profile:
That have limited online trading presence at the moment
10 or less employees
Turnover of less than 2 million Euros
Applicant business must be located in Wicklow
more
Time

(Thursday) 9:30 am - 1:30 pm
Location

Clermont House, Rathnew.

Clermont House, Newrath, Rathnew, Co. Wicklow