Limerick Post – Digital Edition – 28 November 2020 
Taking the first steps into the digital marketplace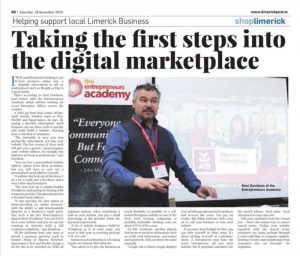 For small businesses looking to get their products online fast, a monthly subscription to sell on marketplaces such as Shopify or Etsy is a good option.
That's according to Noel Davidson, lead trainer with the Entrepreneurs Academy, which delivers training for Local Enterprise Offices across the country.
A level up from that comes off-the-shelf website builders such as Wix, Weebly, and Squarespace, he says. By paying a monthly subscription, small businesses can use these tools to quickly and easily build a website, choosing from a selection of templates.
"The downside is once you stop paying the subscription, you lose your website. The free version of these tools will give you a generic "@squarespace.com" website address, for example. That may not look as professional," says Davidson.
"You can buy a personalised website address option from these providers, but you will have to sort out a personalised email address yourself, he says.
"A website that looks great but doesn't do a lot is really just a brochure and it won't drive much business.
The next level up is website builder WordPress, and paying for hosting with a separate provider. This gives businesses a branded email address.
"It also provides the best option of future-proofing an online presence, with the ability to add downloadable plug-ins as a business's needs grow. One such is the free WooCommerce plug-in from WordPress. You can bolt it on to your website and you are up and running in minutes with a full ecommerce platform," says Davidson.
All the platforms have easy ways to install a payment gateway such as Paypal, Stripe or Elavon. However, Squarespace, Wix and Weebly charge a fee for this to be switched on. With all payment options, when something is sold on your website, you pay a small percentage to the provider when the payment is processed.
"A lot of website designers build for WordPress so if, at some stage, you want to link your accounting package to it, you can."
Features such as livechat or a booking engine are among other plug-ins.
"Our advice is to give the business as much flexibility as possible, so a self-hosted WordPress website on one of the local Irish hosting companies is probably preferable. Hosting costs are about €70-€80 a year.
An SSL certificate, another plug-in that protects sensitive information such as credit card information, usernames and passwords, will cost about the same annually.
"Google Ads is where Google displays your ad when people search for products and services like yours. You pay for results, like when someone clicks your ad to call your business or visit your website.
If you don't have budget for that, you can help yourself in other ways. It's about putting yourself in customers' shoes. A chiropractor may have the word 'chiropractor' all over their website, but if potential customers use the search phrase 'back pain', local chiropractors may miss out.
"Ask your customers how they found you – that's the easiest way to source search terms. Update your website regularly with the search terms customers are using, perhaps through a value-add blog or company updates. Glowing reviews and testimonials from customers also cut through". he explained.
www.limerickpost.ie/digital-edition