Irish Times – Business Technology – 5 November 2020 
Web presence key for businesses to cash in on 'shop local' mood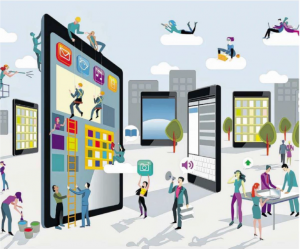 By using simple Google tools and website grants, small businesses can take steps to move online fast
Joanne Hunt
Lobster, langoustine, crab and hake – "I'll see you at the harbour in the morning", fishmonger Alison Bates tells a local Greystones Facebook group. The small business owner doesn't have a bricks-and-mortar shop or a website, but her friendly social media banter along with pictures of the latest catch has customers queuing around the block.
For many small businesses not already online, their shuttering by the coronavirus pandemic for the second time this year has left them bewildered. Their customers are still there and still need their products but, with doors closed, hard-fought custom can seep away.
People still need books, gifts, sandwiches, office supplies and everything else. We may need them now more than ever, as the constant zip of delivery vans attests. So how can small businesses get in on the online act, keeping relationships with customers alive and positioning themselves to survive and thrive in this pandemic and beyond?
Seven in 10 Irish adults have made a conscious effort to support local businesses due to the impact of Covid-19, a survey by iReach has found. "Shop local" is a sentiment small businesses can tap into. If someone googles "bookshops near me", there are simple steps you can take to make sure your shop is found. And it doesn't even require a website.
"If you are a small local business, you can go to 'Google my business' and create your free business profile there," says Google's director of small business in Ireland, Alice Mansergh. Add your address, opening hours, phone number and photos of your business and you can even specify whether you offer click and collect or kerb-side pick-up during lockdown.
This first dipping of your toe into online takes about 15 minutes. "This is going to ensure that if your local customers are searching for you, your details are compelling and accurate and up to date on Google Search and Google Maps," says Mansergh.
Google has also launched Grow with Google, a package of free training, advertising credits and grants to help Irish small businesses to recover from the effects of the pandemic. On the grow.google/intl/ie website, small businesses will find video tutorials on how to set up a business profile, or create a website that sells.
And if you don't already have a website, it's now easier than ever to get one. If you have one and it's effectively just a brochure, it's time to up your game.
Your Local Enterprise Office is a good place to start. Its Trading Online Vouchers assist businesses with up to 10 employees to make online trading easier and more profitable. Businesses can claim up to €2,500, with co-funding of 10 per cent from themselves, towards developing an online presence.
They must participate in training first, however, with courses on everything from developing a website to digital marketing, social media and search engine optimisation.
The Government says the grant will cut the cost for a small business to develop online trading by up to 90 per cent. And, with Covid-19, Irish small businesses appear to be receptive. Local Enterprise Offices have approved some 9,920 such vouchers already this year. That's 8,790 more than last year.
For small businesses looking to get their products online fast, a monthly subscription to sell on marketplaces such as Shopify or Etsy is a good option, says Noel Davidson, lead trainer with the Entrepreneurs Academy, which delivers the training for Local Enterprise Offices.
A level up from that comes off-the-shelf website builders such as Wix, Weebly and Squarespace, he says. By paying a monthly subscription, small business can use these tools to quickly and easily build a website, choosing from a selection of templates.
The downside is once you stop paying the subscription, you lose your website. The free version of these tools will give you a generic "@squarespace.com" website address, for example. "That may not look as professional," says Davidson. You can buy a personalised website address option from these providers, but you will have to sort out a personalised email address yourself, he says.
Branded email
The next level up is website builder WordPress, and paying for hosting with a separate provider, says Davidson. This gives businesses a branded email address.
It also provides the best option of future-proofing an online presence, with the ability to add downloadable plug-ins as a business's needs grow, he says. One such is the free WooCommerce plug-in from WordPress. "You can bolt it on to your website and you are up and running in minutes with a full ecommerce platform," says Davidson.
All the platforms have easy ways to install a payment gateway such as Paypal, Stripe or Elavon, says Davidson. However, Squarespace, Wix and Weebly charge a fee for this to be switched on.
With all payment options, when something is sold on your website, you pay a small percentage to the provider when the payment is processed.
"A lot of website designers build for WordPress so if, at some stage, you want to link your accounting package to it, you can."
Features such as livechat or a booking engine are among other plug-ins. "Our advice is to give the business as much flexibility as possible, so a self-hosted WordPress website on one of the local Irish hosting companies is probably preferable," Davidson says. Hosting costs are about €70-€80 a year.
An SSL certificate, another plug-in that protects sensitive information such as credit card information, usernames and passwords, will cost about the same annually.
Google Ads is where Google displays your ad when people search for products and services like yours. You pay for results, like when someone clicks your ad to call your business or visit your website.
If you don't have budget for that, you can help yourself in other ways. It's about putting yourself in customers' shoes, says Davidson. A chiropractor may have that word all over their website, but if potential customers use the search phrase 'back pain south Dublin', local chiropractors may miss out.
"Ask your customers how they found you – that's the easiest way to source search terms," says Davidson. Update your website regularly with the search terms customers are using, perhaps through a value-add blog or company updates. Glowing reviews and testimonials from customers also cut through.
A website that looks great but doesn't do a lot is really just a brochure and it won't drive much business. "The example I give to clients is, 'We've built your online store, but it's as if we've built it in the middle of the desert. We now need to tell people about it. We need to build roads to your store," says Eoin McKenna, managing director of Golden Spider-winning web design agency Tribe Digital.
Paid search such as Google Ads is a quick way to get traffic to your site within minutes but other, more guerrilla-like marketing methods on social media can bring the same results for free. But you have to work at it.
Knowing your customer, hanging out online where they are and using the right tone of voice will bring results.
Fishmonger Bates shares quayside pictures of her latest catch to local Facebook groups, and says she hopes everyone is doing okay in these hard times. Members respond warmly, sharing recipes and images of how they have cooked her fish. She offers free fish to householders having a tough time. Her video announcing the winner of €50 worth of fish for those who liked and shared her Facebook posts has been viewed 1,500 times.
"If you are going to be all 'salesy', no one is that interested. The idea with social media is that you can join conversations other people are having that are relevant to your brand, chipping in in a really relevant way that's useful to them," says McKenna. It's about knowing who you are and having the confidence to be authentic. "If you are approachable, you understand your audience and can converse about the stuff they are interested in, you don't need to spend a penny on marketing, ever."
Instagram is another great place to cultivate a community of like-minded people. This is just what Higgins Butchers in Sutton has done, says McKenna. Within a few hours of posting pictures to Instagram of Wagyu beef it had sourced, all 40kg of it had sold out.
Tribe Digital is currently revamping Higgins's website. "At some point next year, they expect their online sales to pass their store sales," says McKenna.
"If someone visits your website, they are interacting with your brand; if they see a Facebook or Instagram post, that's your brand. It's important to maintain the same
messaging and tone of voice across all these touch points. Your posts might not be perfect, but they might be endearing and that will draw customers."
'Hunting and gathering'
Facebook and social media are fantastic for "hunting and gathering" advertising and customers, agrees Davidson, but nobody is going to share their credit card details there. Social media posts should direct customers to a professional-looking and secure website that they trust.
"But the power of recommendation is huge. We won't buy something until we see someone else has bought it first. That means a review or a testimonial, somebody mentioning on social media that they bought your product or booked your service, linking to your site. That works extremely well."
Once inquiries and orders start flying in, you need to be responsive. Retailers will be used to spending their time on the shop floor, perhaps responding to emails when there is a lull. Selling online can turn this on its head. Online customers, just like those coming through the door, expect attention.
"If they are going online, it's not going to be this dream set-up where orders just come in and stuff gets shipped out – it needs to be manned," says Eoin McKenna. "You need to prepare to resource that side of things."
If online customers don't get a timely response, they will go elsewhere. Likewise, if you are shipping products, you will need to allocate time to packaging them for dispatch and dealing with returns.
The explosion in online shopping during the pandemic means more competition among delivery companies. Small business options are available from the usual providers, including An Post, which offers tracked and untracked options for small businesses with an online shop.
So whether Covid has closed your doors or not, make sure your customers can find you online. Pandemic lockdowns will end, but online shopping is here to stay. In a world where your customers can shop anywhere, Irish small businesses must make it easy for them to shop at home.
https://www.irishtimes.com/business/technology/small-businesses-take-your-first-step-online-in-just-15-minutes-1.4397907?mode=sample&auth-failed=1&pw-origin=https%3A%2F%2Fwww.irishtimes.com%2Fbusiness%2Ftechnology%2Fsmall-businesses-take-your-first-step-online-in-just-15-minutes-1.4397907