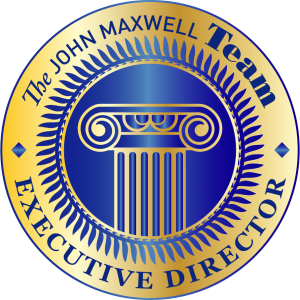 As an Executive Director of The John Maxwell Team, Joanne is certified to facilitate, speak, train and coach individuals and groups in the areas of leadership development, professional skills and personal growth. Trained and mentored by John Maxwell and mentors of his world-class faculty, Joanne is equipped with the tools, resources and experience to help you and your team improve your productivity, performance and profitability. Whether you are looking for a facilitator for group workshops, corporate training in leadership, speaking, sales, or coaching skills for your leaders, or a speaker for your next event, Joanne has access to exclusive content that is only available through a certified Executive Director of the John Maxwell Team to help you reach your goals and objectives.
Click for Full details Joannes leadership and professional development programs on the John Maxwell Team Website.
About Joanne Hession : Joanne is passionate about Entrepreneurship and about helping individuals to achieve their business ambitions.  As founder and CEO of The Entrepreneurs Academy, QED Accreditation Advisors and her newest venture, The Business School GPS, Joanne is a portfolio entrepreneur.  She is also a recognised leader in training and business development in Ireland, where she also acts as a government advisor. Her business, The Entrepreneurs Academy, has trained thousands of entrepreneurs towards success over 18 years. As the leading government supplier, in 2015/16 alone The Entrepreneurs Academy trained over 400 long-term job seekers to start their own business in addition to training over 5,000 people on their start-up journey.
Global Business School Advisor
Beyond Ireland, Joanne has a reputation as a trusted advisor to University Business Schools. Her company QED The Accreditation Experts (www.QEDaa.com) works with over 100 Business Schools in over 16 countries enabling them to achieve various accreditation awards.  She sits on a number of European University Advisory Boards and has recently been appointed to the International Advisory Board of the American University in the Emirates, Dubai.
Developing Entrepreneurship across the ages
Together with her team, Joanne is leading the expansion of The Global Institute for Experienced Entrepreneurship (www.experieneurship.com) in the UK and Ireland, unleashing the potential of Senior entrepreneurs worldwide.  At the other end of the spectrum, Joanne is on the Board of Bizworld, a non-profit organization to ignite entrepreneurship in the minds of primary school children.
Developing entrepreneurship in women
Joanne has had a long-term interest in supporting female entrepreneurs. She was selected as one of 15 Irish female mentors to assist new female entrepreneurs for the European Commission. In 2007, leveraging her knowledge and network, Joanne convened and continues to facilitate a closed peer board of successful entrepreneurial women who collectively turn over in excess of €400mn annually. Known as 'The Board You Can't Afford', they continue to meet quarterly.
Providing a voice for Entrepreneurs
Hession is an elected Council Member of Dublin Chamber of Commerce, providing a voice in the Chamber for SMES and microenterprises and has recently been appointed to the Board.  She is a Board member of the British Irish Chamber of Commerce and Chairs the Chamber's SME Committee.  She is an Advisory Board Member of the University of Hertfordshire Business School in the UK and Chairs Advisory Boards for a number of start-up and established companies.
Author, Speaker and Media commentator on Entrepreneurship
A frequent keynote speaker at international conferences, Joanne is also co-author of #1 best selling book "Don't Get A Job, Build A Business". She is listed as one of the top 100 All-Island Business Women by Irish Entrepreneur and You Business and was a recent finalist in the Women Mean Business Awards.  Joanne is a recognised media commentator on entrepreneurship.  For example, she joined Bobby Kerr as an expert panel member on Newstalk's 'Down To Business Show' for the eight episodes of AIB's Getting Started Series.
Joanne holds a Bachelor of Commerce Degree from University College Dublin, specialising in Finance, and a Master of Business Studies Degree in Management from the Michael Smurfit Graduate School of Business, University College Dublin.  Joanne holds a certificate in Training from NUI Maynooth (1st Class Hons).