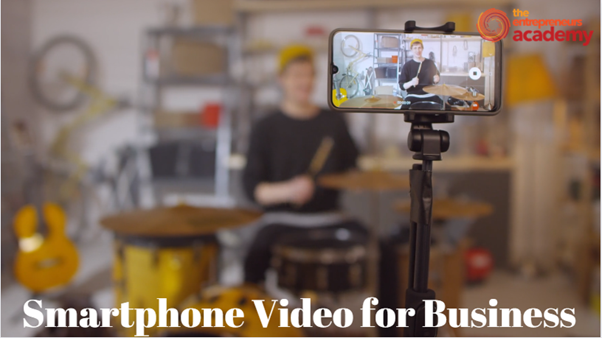 I had the pleasure of sitting in on one of The Entrepreneur's Academy's courses on how to use your Smartphone to create Video for Business. The instructor utilized the app 'InShot' – Video Editor. For those who aren't familiar with this app it's an all-in-one visual content editing app that allows you to create videos that you can trim, change the speed of your footage, add music and text and much more. This app is brilliant for all users from beginners to experienced video creators, InShot has everything you need to create quality videos.
Link for further details: https://inshot.com/
This 3 hour workshop was led by Michael Keogh over Zoom . From the very start of the class, we were told to create our own little clip while watching Michael create his video. We would follow what he did on the app giving advice along the way and every 15 minutes we would get the chance to add to our video. By the end of the workshop, everyone taking part had a 3–5-minute video with amazing content and brilliant features throughout. I found the InShot app very user friendly and creating your personal video couldn't be any easier, but with the help of Michael Keogh it was outstanding, as he gave us an insider's view of how everything works. It was just brilliant.
The knowledge and understanding I took away from this workshop was great, especially the tips Michael provided. Below are 8 useful pointers from the class that you might find very beneficial.
Set-up your camera on a tripod or a steady surface, this will eliminate camera shake in footage.
Position the camera at eye level if possible.
Leave enough space around the subject so the video can easily be cropped.
Leave some distance between the subject and the backdrop.
When shooting at home, look for cozy corners in your home that are intimate but not cluttered.
Use plants, desks, ornaments, chairs, books and cushions to add character to videos.
Record in a quiet location. Make sure all doors and windows are closed to avoid unwanted noise.
Record in a carpeted space, or somewhere with plenty of soft furnishings to get the best sound possible.
All in all, I thought this was a very practical class and I would highly recommend it to anyone who wants to improve their video editing skills or wants to learn how to create a professional video. The instructor, Michael Keogh was amazing, super helpful and kind. I would rate this workshop 5/5 stars.